Writing a cover letter for a payroll supervisor position can be both exciting and challenging. Knowing the right format and language to use in your cover letter is essential in creating an impactful and professional letter that will help you stand out. This guide offers detailed information on the content and structure of a cover letter for payroll supervisors, including what to include and how to present yourself in the best light. It also provides an example of a cover letter you can use as a reference.
If you didn't find what you were looking for, be sure to check out our complete library of cover letter examples.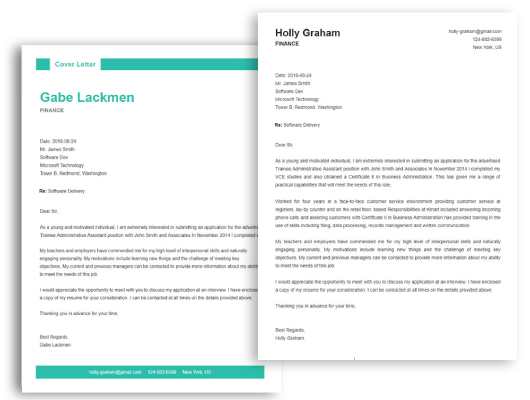 Start building your dream career today!
Create your professional cover letter in just 5 minutes with our easy-to-use cover letter builder!
Payroll Supervisor Cover Letter Sample
Dear [Name],
I am writing to apply for the position of Payroll Supervisor at [Company]. My knowledge and experience in payroll operations and management make me a perfect candidate for this position.
In my current role as Senior Payroll Manager at [Company], I have successfully led a team of payroll processors and supervisors to deliver accurate and timely payroll results. I have implemented a number of process and procedural changes to increase efficiency and accuracy while also assisting in developing new initiatives to drive cost- effectiveness. I am confident in my ability to optimize payroll systems and procedures while also ensuring compliance with legal and regulatory standards.
Furthermore, I am highly experienced in developing and managing key payroll metrics, tracking payroll data, and resolving issues. My strong communication, problem- solving, and organizational skills have enabled me to identify potential issues quickly and come up with effective solutions. I am also adept at developing relationships with internal and external stakeholders, approaching difficult conversations with diplomacy and tact.
I am excited at the prospect of joining [Company] and would value the opportunity to work with your team. I am confident that my skills and experience make me a great fit for this role.
Please do not hesitate to contact me if you require additional information or would like to discuss my candidacy in further detail.
Thank you for your time and consideration.
Sincerely,
[Your Name]
Looking to improve your resume? Our resume examples with writing guide and tips offers extensive assistance.
What should a Payroll Supervisor cover letter include?
A Payroll Supervisor cover letter should include the following key points in order to make a strong impression:
Explain why you are the ideal candidate for the position, including any specific qualifications or experiences that make you stand out from other applicants.
Outline your relevant experience and accomplishments, emphasizing any specific skills that are beneficial to the role.
Demonstrate your knowledge of the company and the department you would be working in, including current processes and challenges.
Highlight your enthusiasm and eagerness to join the team and contribute to its success.
Emphasize your ability to work well with a variety of people and handle complex tasks efficiently.
Outline your commitment to professionally representing the company and its values in all interactions.
Demonstrate the ability to take initiative and think creatively to address challenges.
Provide contact information for references.
By including the above points in your cover letter, you can ensure that you demonstrate your qualifications and skills, as well as your enthusiasm for the role, in order to make a strong impression and increase your chances of getting hired.
Payroll Supervisor Cover Letter Writing Tips
A cover letter is an essential part of applying for a job as a payroll supervisor. It can be the difference between being considered and being passed over. To make sure your cover letter stands out, here are some tips for writing an effective and memorable payroll supervisor cover letter.
Highlight Your Qualifications: Your cover letter should highlight the qualifications, skills, and experience that make you an ideal candidate for the role. Showcase your expertise in payroll management and your knowledge of payroll compliance rules and regulations.
Showcase Your Achievements: Use your cover letter to showcase the accomplishments you've achieved in previous roles. Show the potential employer that you have the skills and experience to excel in the position.
Use Keywords: Make sure to include the most relevant keywords from the job description in your cover letter. This will show the employer that you have an understanding of the role and the company.
Keep It Concise: Your cover letter should be concise and to the point. Avoid long- winded sentences and fluffy language. Focus on the most important skills, qualifications, and achievements that make you the ideal candidate.
Proofread and Edit: Before submitting your cover letter, make sure to go over it and edit for any typos or grammatical errors. This will show the hiring manager that you are detail- oriented and take the time to make sure your work is professional.
Common mistakes to avoid when writing Payroll Supervisor Cover letter
Cover letters are an important part of any job application, and they can make or break your chances of securing an interview. Writing a cover letter for a Payroll Supervisor position requires a special attention to detail and knowledge of the skills and qualifications necessary for the role. To make sure your cover letter is successful, there are some common mistakes to avoid.
Failing to tailor the cover letter to the organization and role: It is essential to invest time in researching the company and the role, and to tailor the cover letter accordingly. Don't just send the same generic cover letter to all positions; instead, highlight the skills, qualifications and experience that make you the perfect fit for the role.
Going overboard with the details: While it's important to include enough information that the employer will understand why you are a strong candidate for the role, you don't want to overwhelm them with unnecessary details. Don't include irrelevant information, overuse adjectives or go into too much detail about your work history.
Not highlighting your achievements: When discussing your experience, focus on your accomplishments. Provide tangible examples of the ways you have gone above and beyond in your past roles. This will demonstrate to the employer that you are a self- motivated candidate who can be successful in the role.
Not proofreading your cover letter: One of the most important steps in the cover letter writing process is proofreading. It is essential that you double- check your cover letter for any typos, grammatical errors or spelling mistakes. Make sure you read through it a few times and have a friend or colleague look it over as well to ensure it is error- free.
By avoiding these common mistakes, you can ensure that your cover letter for the Payroll Supervisor role is successful and stands out from the crowd. Put in the necessary time and effort to make sure your cover letter is well- crafted and tailored to the company and role
Key takeaways
Writing a standout cover letter for your entry to the payroll supervisor position can be daunting. After all, you want to be sure to make a good first impression and convince the recruiter that you're the best candidate for the job. To help you kick off your cover letter writing process, here are some key takeaways to keep in mind:
Start your cover letter by addressing the hiring manager by name. Doing so will make it clear that you've done your research and taken the time to personalize your letter.
Quickly explain why you're interested in the position and the organization. Doing so will help the recruiter understand why you're a good candidate for the job.
Showcase your qualifications by discussing your past experience and accomplishments. Make sure to highlight any relevant achievements and skills that would make you a great fit for the role.
Demonstrate your knowledge of the company. Research the organization and include details about why you'd be a great addition to their team.
End your cover letter by thanking the reader for their time and expressing your interest in the position.
Following these tips can help you craft an impressive payroll supervisor cover letter that will help you stand out from the competition. Good luck!
Frequently Asked Questions
1.How do I write a cover letter for an Payroll Supervisor job with no experience?
Writing a cover letter for an Payroll Supervisor job with no experience can be intimidating, but by following a few key guidelines, you can create an effective document that captures the attention of hiring managers. Begin the cover letter by introducing yourself and explaining your interest in the position. Highlight any skills that may be transferrable to the role, such as customer service, problem solving, and attention to detail. Describe any relevant activities or volunteer work you've completed and explain how these experiences have developed your skills and understanding of the Payroll Supervisor role. Finally, emphasize your passion for the position and your enthusiasm for learning more about the role.
2.How do I write a cover letter for an Payroll Supervisor job experience?
If you have experience as a Payroll Supervisor, you can use your cover letter to showcase your expertise and accomplishments. Begin the letter by introducing yourself and explaining your interest in the role. Then, list your experience and explain the key responsibilities you've held and how you've excelled in them. Describe any challenges you've faced in past roles and how you overcame them. Highlight any awards or recognition you've earned and explain how you've helped your previous employers. Close the letter by emphasizing your enthusiasm for the position and your desire to bring your experience to the new role.
3.How can I highlight my accomplishments in Payroll Supervisor cover letter?
When highlighting your accomplishments in your Payroll Supervisor cover letter, focus on specific examples that demonstrate your skills, such as the number of employees you've managed, the successful implementation of new processes, or how you've saved the organization time and money. If you are a recent graduate, emphasize any relevant coursework and activities that have prepared you for the role.
In addition to this, be sure to check out our cover letter templates, cover letter formats, cover letter examples, job description, and career advice pages for more helpful tips and advice.
Let us help you build
your Cover Letter!
Make your cover letter more organized and attractive with our Cover Letter Builder