Writing a cover letter for a payroll manager position can be a challenge. It requires detailed knowledge of the job role, a strong understanding of the company you are applying to, and an ability to make a logical argument as to why you are the best candidate for the job. This guide provides a comprehensive overview of the elements of a successful cover letter for a payroll manager role, as well as a sample letter to refer to as you write your own. By following the steps outlined below, you can ensure your cover letter conveys the skills and experience needed for a successful application.
If you didn't find what you were looking for, be sure to check out our complete library of cover letter examples.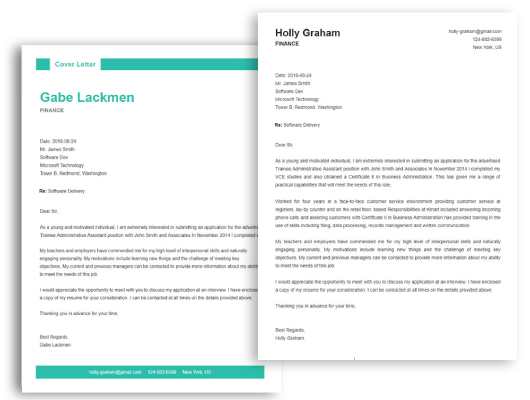 Start building your dream career today!
Create your professional cover letter in just 5 minutes with our easy-to-use cover letter builder!
Payroll Manager Cover Letter Sample
Dear [Hiring Manager],
I am writing to apply for the Payroll Manager position at [Company Name]. As an experienced payroll specialist, I am confident that my skills and qualifications would make me a valuable asset to your team.
For the past five years, I have been working as a payroll specialist for [Previous Employer]. During my tenure, I have successfully managed multiple payrolls for employees in various industries. I also have extensive experience in managing and reconciling payrolls, creating and adjusting employee benefits, and providing financial reporting. My technical skills include excellent proficiency in software such as [Software Name], [Software Name], and [Software Name], as well as experience in working with leading payroll systems such as ADP and Paychex.
In addition, I have a strong understanding of payroll laws and regulations, including the Fair Labor Standards Act, the Family and Medical Leave Act, and the Affordable Care Act. I am also adept at performing audits of payroll and benefits accounts and reviewing payroll records to ensure compliance with laws and regulations.
I am confident that my experience and qualifications make me an ideal candidate for the Payroll Manager position at [Company Name]. I am a highly organized and detail- oriented individual who is committed to delivering accurate, timely, and professional services. I am passionate about helping organizations become more efficient and I believe I would be a great asset to your team.
Thank you for considering my application and I look forward to hearing from you.
Sincerely,
[Your Name]
Looking to improve your resume? Our resume examples with writing guide and tips offers extensive assistance.
What should a Payroll Manager cover letter include?
A Cover Letter for a Payroll Manager should include:
Relevant experience and skills that demonstrate your ability to handle the payroll duties. Include any experience you have managing budgets, working with payroll systems, and handling payroll discrepancies.
Examples of successful project implementations and how they resulted in improved operational efficiencies and cost savings.
Your understanding of emerging payroll- related trends and technologies, and how you plan to use them to drive success.
Your ability to develop, implement, and maintain payroll processes that meet company goals and adhere to relevant laws and regulations.
Your knowledge of government regulations and payroll tax laws.
Your proficiency in using software related to payroll, such as Microsoft Excel, QuickBooks and other payroll software.
Your ability to work as part of a team as well as independently.
Your interpersonal and communication skills, and how you can use them to build productive working relationships with colleagues.
Your passion for the role and your dedication to providing an efficient, accurate, and secure payroll system.
Your willingness to take on additional responsibilities and to continually develop your skills and knowledge.
Payroll Manager Cover Letter Writing Tips
A cover letter is a great way to introduce yourself to a potential employer and provide them with a snapshot of your qualifications and experience. As a payroll manager, it's especially important to include relevant details on your cover letter to make a lasting impression. Here are some tips for crafting a compelling cover letter for a payroll manager position:
Use a formal, professional tone throughout the body of your cover letter. Be sure to address the hiring manager by name if you have it and answer the question "why should we hire you?"
Begin your cover letter by introducing yourself and quickly explain why you are writing. Be sure to mention the specific job you are applying for and why you think you are a fit for the role.
Highlight achievements and awards that demonstrate your knowledge and skills in payroll management. Include relevant details about any previous positions that showcase your experience and expertise.
Discuss any additional certifications, such as Certified Payroll Professional or Certified Payroll Manager, that you possess.
Demonstrate your problem- solving skills and ability to think analytically. Show how you have addressed difficult payroll issues in the past and how you would handle similar problems in the future.
Emphasize your commitment to accuracy and maintain effective communication between departments in the organization.
Describe how you use technology to manage payroll, such as software and systems.
End your cover letter by thanking the reader for their time and expressing your interest in the position. Provide your contact information and reiterate your enthusiasm for the role.
Common mistakes to avoid when writing Payroll Manager Cover letter
Writing a cover letter for a payroll manager position is a vital part of the job application process. It is your chance to make a great first impression on the hiring manager and demonstrate why you're the right person for the job. To help you make a great impression, here are some of the common mistakes to avoid while writing a payroll manager cover letter:
Not Tailoring the Letter: One of the most common mistakes when writing a cover letter is sending a generic letter that is not tailored to the position being applied for. You need to research the company and the position in order to craft a letter that speaks to the specific job requirements.
Not Demonstrating Your Skills: Your cover letter should be more than just a list of your skills and experience. You need to demonstrate how your skills and experience can be put to use in the role of a payroll manager. Make sure you include concrete examples of how you have used your skills in past roles.
Not Being Specific: Your cover letter should be specific and provide concrete examples. Don't just say that you are a "hardworking and dedicated professional." Demonstrate this with concrete examples.
Not Proofreading: Even the smallest typo can make your cover letter look unprofessional. Make sure to proofread your letter several times and have someone else read it over as well.
By avoiding these common mistakes, you can ensure that your cover letter is professional and makes a great impression on the hiring manager. With a great cover letter, you will have a better chance of landing the job of payroll manager.
Key takeaways
Writing a cover letter for a payroll manager job requires a lot of thought and preparation. You need to make sure your letter is professional, concise and well- crafted. Here are some key takeaways to help you write an impressive Payroll Manager cover letter:
Research the company and the role to ensure your cover letter is tailored to the specific job you are applying for.
Highlight your qualifications and experience that are relevant to the payroll manager role.
Make sure your letter is professional, concise and to the point.
Use proper grammar and spelling and avoid any typos.
Showcase your knowledge of payroll systems and other relevant skills.
Demonstrate your ability to multitask and handle a high- pressure work environment.
Show your passion and enthusiasm for the job and the organization.
End your letter on a positive note and thank the reader for their time.
By following these key takeaways, you can be sure that your cover letter for a payroll manager job will stand out and make a great impression on potential employers.
Frequently Asked Questions
1. How do I write a cover letter for an Payroll Manager job with no experience?
Writing a cover letter for an Payroll Manager job when you have no experience can be a challenge, but don't let that discourage you! Highlight any work experience or education that is relevant to an Payroll Manager role—even if it is not directly related. For example, if you have accounting experience, emphasize your familiarity with financial processes and procedures. Use the cover letter to explain why you are the ideal candidate for the job and how your skillset and experience make you a great fit.
2. How do I write a cover letter for an Payroll Manager job experience?
When you have experience in Payroll Manager, your cover letter should demonstrate your understanding of the role and related processes. Showcase your experience in working with payroll systems and experience in managing payroll for employees. Focus on any innovative strategies you have implemented to improve the efficiency and accuracy of the payroll process. Be sure to explain how your accomplishments have benefited prior employers and how you can bring the same benefits to the position you are applying for.
3. How can I highlight my accomplishments in Payroll Manager cover letter?
When highlighting your accomplishments in your cover letter, focus on the impact and results of your work. For example, if you have implemented new processes or strategies that saved time or increased efficiency, be sure to explain the extent of the savings. Additionally, discuss any feedback or recognition you have received from colleagues and supervisors. By providing specific details, you can give the hiring manager concrete examples of your skills and accomplishments.
4. What is a good cover letter for an Payroll Manager job?
A good cover letter for an Payroll Manager job should articulate your understanding of the role and how you can contribute to the organization. Focus on your experience in managing payroll for employees and any innovative processes or strategies you have employed.
In addition to this, be sure to check out our cover letter templates, cover letter formats, cover letter examples, job description, and career advice pages for more helpful tips and advice.
Let us help you build
your Cover Letter!
Make your cover letter more organized and attractive with our Cover Letter Builder