Writing a cover letter for a payroll coordinator position can be a challenging task, but with the right information and guidance, you can create a strong and effective document. This guide will provide you with tips on how to make your cover letter stand out, as well as a sample cover letter you can use as a template. By following these steps and using the example, you will be on your way to landing your ideal payroll coordinator role.
If you didn't find what you were looking for, be sure to check out our complete library of cover letter examples.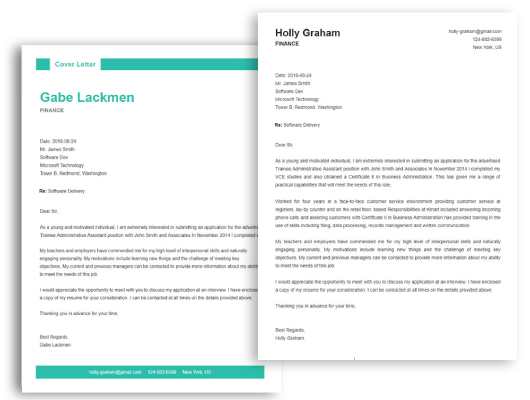 Start building your dream career today!
Create your professional cover letter in just 5 minutes with our easy-to-use cover letter builder!
Payroll Coordinator Cover Letter Sample
Dear [Hiring Manager],
I am writing to apply for the Payroll Coordinator position at [Company Name]. With my six years of experience in payroll and accounting, I am confident that I am the perfect candidate for this role.
As an experienced payroll specialist, I have a wealth of knowledge in state and federal labor laws and payroll taxes. I have experience with multiple payroll systems, and I am skilled in managing payroll operations, including payroll processing, benefits, compensations, and other associated tasks. I am also proficient in preparing payroll reports and analyzing payroll data to identify any potential discrepancies.
Moreover, I have extensive knowledge of accounting principles and procedures, as well as experience in financial report preparation. As a detail- oriented and organized professional, I have the ability to handle multiple tasks and juggle multiple deadlines in a fast- paced environment.
I am sure that my skills and experience make me an ideal fit for this position. I am available for a personal interview at your convenience. Thank you for your time and consideration.
Sincerely,
[Your Name]
Looking to improve your resume? Our resume examples with writing guide and tips offers extensive assistance.
What should a Payroll Coordinator cover letter include?
A good Payroll Coordinator cover letter should include:
A professional introduction that explains your experience in the field.
A brief summary of your relevant qualifications, such as your certifications or any payroll software experience.
An overview of your relevant skills and abilities, such as your detail- oriented nature, ability to multi- task, and commitment to accuracy.
Examples of how you've used your expertise to improve your previous employers' payroll processes.
A brief explanation of why you think you'd be a great fit for the Payroll Coordinator position and how you could be a valuable asset to the organization.
A closing paragraph thanking the reader for their time and expressing your interest in the position.
Payroll Coordinator Cover Letter Writing Tips
Writing an effective cover letter is essential when applying for a payroll coordinator job. A well- crafted cover letter will grab the attention of potential employers and make you stand out from the crowd. Here are some helpful tips to consider when writing your payroll coordinator cover letter:
Start with a strong opening statement: Begin your cover letter with a professional salutation and a statement that captures the hiring manager's attention. Explain why you're interested in the position and how your skills and experience make you a perfect fit.
Highlight your relevant qualifications: Use the cover letter to highlight skills that make you a great candidate for the position. Detail your experience with payroll systems, reporting, and data analysis. Showcase strong interpersonal and communication abilities, as well as your commitment to accuracy and organization.
Demonstrate your knowledge of the job: Show that you understand the role of a payroll coordinator by providing examples from your past experience. Explain how you've successfully managed payroll, prepared reports, and managed data.
Demonstrate your adaptability: Explain how you're able to adapt to changing regulations and laws related to payroll. Highlight your ability to stay up to date on industry best practices and trends.
End with a strong closing: Close your cover letter with a professional sign- off and a call to action. Express your enthusiasm for the job and how you'd be an asset to the team.
Common mistakes to avoid when writing Payroll Coordinator Cover letter
When writing a cover letter for a payroll coordinator position, there are a few common mistakes to avoid. Here are some tips to help you craft an effective cover letter:
Avoid generic language. While it can be tempting to use generic language in your cover letter, it's important to make sure you customize it to the job you're applying for. Make sure to include specific skills and experiences that make you a great fit for the position.
Don't forget to include your contact information. Make sure to include your contact information at the top of your cover letter and throughout the document.
Don't repeat what's on your resume. Instead of just repeating what's on your resume, use your cover letter to give more detail on why you're the best candidate for the job.
Proofread your letter. Spelling and grammatical errors can be a major turn off to potential employers. Make sure to take the time to proofread your letter and correct any mistakes.
Don't be too long- winded. Your cover letter should be succinct and to the point. Keep it to one page and make sure to focus on the key points.
By following these tips and avoiding these common mistakes, you can create an effective cover letter that will help you stand out from the competition and get the job.
Key takeaways
Writing a cover letter for a payroll coordinator role can seem like a daunting task. The cover letter is your opportunity to show potential employers why you are the best fit for the role and to demonstrate your knowledge of the job and business. Here are some key takeaways to keep in mind when writing a cover letter for a payroll coordinator role:
Use your cover letter to explain your qualifications, including any certifications and education that are applicable to the role.
Demonstrate that you have a firm grasp of payroll systems and regulations, as well as any accounting software you may have used.
Describe how you have developed your skills through previous roles and how you would use them in the payroll coordinator role.
Highlight your familiarity with payroll processes, including tax compliance, payroll calculations, benefits administration and reporting.
Showcase your excellent communication skills and ability to work with colleagues and other departments.
Point out any awards or accolades that are relevant to the role.
Make sure to proofread your cover letter for grammar and spelling errors.
Following these tips will help ensure that you write an impressive and effective cover letter for a payroll coordinator role. By taking the time to highlight your relevant skills and experiences, you can demonstrate to potential employers that you are the best candidate for the job.
Frequently Asked Questions
1.How do I write a cover letter for an Payroll Coordinator job with no experience?
When applying for a Payroll Coordinator job without experience, emphasize your transferable skills, such as attention to detail and data entry skills. Talk about how your organizational and communication abilities could be useful in the role. Additionally, point out any volunteer or unpaid experience you have that could be relevant to the job, such as previous administrative work. To make a strong impression, you should also research the company, to demonstrate your enthusiasm for the opportunity.
2.How do I write a cover letter for an Payroll Coordinator job experience?
When applying for a Payroll Coordinator job with experience, focus on the accomplishments you achieved in previous roles. For example, talk about how you streamline payroll process, reduced errors or saved the company money. Additionally, mention any certifications or qualifications you possess related to the position. Be sure to talk about how you are organized, detail orientated and have excellent communication skills.
3.How can I highlight my accomplishments in Payroll Coordinator cover letter?
When highlighting accomplishments in your cover letter for a Payroll Coordinator job, emphasize any successes you achieved. For example, if you have streamlined payroll processes or reduced errors, talk about it. Additionally, if you have taken any courses or workshops related to payroll that could be relevant, make sure to mention it. Finally, if you have relationships with payroll vendors, discuss how this could be beneficial to the employer.
4.What is a good cover letter for an Payroll Coordinator job?
A good cover letter for a Payroll Coordinator job should emphasize the applicant's organizational, communication and data entry abilities. The letter should also point out any relevant qualifications or certifications, such as experience with payroll software. Additionally, discuss any accomplishments from previous roles, such as streamlining payroll processes or reducing errors.
In addition to this, be sure to check out our cover letter templates, cover letter formats, cover letter examples, job description, and career advice pages for more helpful tips and advice.
Let us help you build
your Cover Letter!
Make your cover letter more organized and attractive with our Cover Letter Builder