Writing a cover letter for a billing associate position can seem like a daunting task. After all, your cover letter needs to demonstrate your skills and experience, as well as your passion for the position in a way that will capture the attention of prospective employers. To help you write a successful cover letter, this guide will provide a comprehensive overview of how to craft an effective cover letter for a billing associate position. It will also provide a sample cover letter that you can use as a reference when crafting your own.
If you didn't find what you were looking for, be sure to check out our complete library of cover letter examples.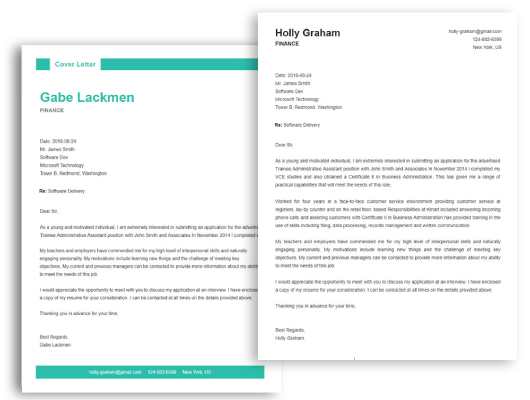 Start building your dream career today!
Create your professional cover letter in just 5 minutes with our easy-to-use cover letter builder!
Billing Associate Cover Letter Sample
Dear [Hiring Manager],
I am writing to express my interest in the Billing Associate position at [company name]. With my extensive experience in billing and collections, I am confident I can make valuable contributions to your company's success.
I have been working in billing and collections for the past five years in various settings. During this time, I have developed strong organizational and customer service skills, as well as an in- depth knowledge of billing and collections procedures. I have also collaborated with partners to develop new billing and collections systems to improve efficiency and accuracy.
I am proficient with various software and systems, including [software/system], and I understand the complexities of billing and collections. I have a proven ability to analyze and resolve billing issues quickly and effectively. Additionally, I am an excellent communicator and able to develop strong, effective relationships with customers and other stakeholders.
I am an enthusiastic and hardworking individual and confident my experience and skills make me an ideal candidate for this position. I look forward to discussing in more detail how I can be an asset to your team.
Thank you for your time and consideration.
Sincerely,
[Your Name]
Looking to improve your resume? Our resume examples with writing guide and tips offers extensive assistance.
What should a Billing Associate cover letter include?
A billing associate cover letter should be concise, yet comprehensive, and tailored to the job you are applying for. It should include the following essential elements:
A brief introduction that outlines your qualifications and states why you are the right fit for the position
A discussion of relevant billing experience, such as knowledge of payment processing software, accounts payable and receivable, setting up payment plans and other related tasks
Specific examples of how you have successfully managed billing related tasks in the past
A discussion of your customer service skills, such as being able to handle difficult customer situations in a timely and professional manner
A discussion of how you are familiar with relevant laws and regulations, such as the Fair Debt Collection Practices Act
A closing summary of why you are the ideal candidate for the position
By including all of the above elements, you can ensure that your cover letter stands out from the competition and shows that you are truly prepared to take on the role of billing associate.
Billing Associate Cover Letter Writing Tips
Writing a cover letter for a billing associate can be a daunting task because of the highly technical skills required for the position.
First, it's important to highlight your experience in the billing field. Make sure to include your background in the cover letter, such as previous roles, the specific software and systems you've worked with, and how you were able to streamline billing operations.
Since accuracy is an essential job requirement, make sure to focus on your attention to detail and your ability to build accurate reports quickly. Demonstrate how you double- check your work and use quality assurance best practices.
As a billing associate, you will also be responsible for interacting with customers and responding to invoices. Showcase how your communication skills and customer service experience will make you an asset to the company.
Lastly, demonstrate that you are familiar with the company and its services. In the cover letter, explain why you are the ideal candidate and why you are passionate about working for the company.
Common mistakes to avoid when writing Billing Associate Cover letter
Writing a cover letter for a billing associate role requires research and skill. Although you might feel overwhelmed and intimidated by the process, making the effort can be well worth it, as it can help you make a great impression and potentially land you the job. To help you craft the best cover letter possible, here are some common mistakes to avoid:
Not Tailoring Your Cover Letter: A generic cover letter won't stand out from the crowd and won't make a lasting impression. To make sure yours stands out, it's important to tailor it to the job you're applying to. Research the company, the position, and any other relevant information so that you're well- informed and can write a tailored cover letter.
Not Highlighting Your Qualifications: Your cover letter is an opportunity to showcase your qualifications and skills. You should include specific examples of your experience or accomplishments that make you stand out.
Not Using the Right Language: Your cover letter should reflect professionalism and leave a strong impression. Avoid using overly casual language and jargon, and be sure to proofread your letter thoroughly.
Not Demonstrating Your Passion: Hiring managers want to see that you're truly excited about the position you're applying for. Don't be afraid to express your enthusiasm and make sure the hiring manager can see your genuine interest in the role.
Not Including Contact Information: It's essential to include your contact information in your cover letter. Make sure the hiring manager has your email address, telephone number, and physical address so that they can get in touch with you.
Following these tips can help ensure your cover letter makes a great impression and helps you land the job. Avoiding these common mistakes will give your cover letter the best chance of success.
Key takeaways
Writing a cover letter for a Billing Associate position requires a unique approach – one that sets you apart from other candidates and demonstrates your qualifications. Here are some key takeaways when writing an impressive cover letter for a Billing Associate position:
Highlight your experience in the billing field, particularly any success stories or accomplishments.
Demonstrate your knowledge of the industry and current trends in billing.
Showcase your communication and organizational skills.
Describe your ability to manage customer accounts and process payments quickly and efficiently.
Showcase your ability to think analytically and make decisions.
Demonstrate your understanding of billing processes and protocols.
Point out any special qualifications you possess, such as certifications or training in billing.
Ensure that your cover letter is well- written, concise, and error- free.
Make sure to include your contact information and a call to action.
Frequently Asked Questions
1.How do I write a cover letter for an Billing Associate job with no experience?
Writing a cover letter for a Billing Associate job with no experience can be a challenge. However, there are a few tips to keep in mind that can help you create a strong, effective letter. Start your letter by introducing yourself and your interest in the position. Explain your qualifications, such as your strong attention to detail, your ability to manage multiple tasks, and your commitment to accuracy and precision. Share any relevant skills you have acquired from your education or other life experience. Finally, state your enthusiasm for the job and express your desire to learn more about the company and the position.
2.How do I write a cover letter for an Billing Associate job experience?
When writing a cover letter for an Billing Associate position, it's important to highlight your experience. Start your letter with a strong statement about your qualifications and your interest in the job. Describe your previous experience in detail and emphasize the tasks you have completed and the skills you have developed. Showcase your success in similar roles, such as increased productivity or improved accuracy. Lastly, express your enthusiasm for the job, and your desire to learn more about the company and how you can contribute to their success.
3.How can I highlight my accomplishments in Billing Associate cover letter?
Highlighting your accomplishments in your Billing Associate cover letter will help you stand out from other applicants. Start by listing your relevant experience and skills. Use specific examples to demonstrate your abilities and describe the successes you have achieved in your previous roles.Talk about the challenges you faced and how you overcame them. Finally, explain how you could use your experience to benefit the company and why you are the best candidate for the job.
In addition to this, be sure to check out our cover letter templates, cover letter formats, cover letter examples, job description, and career advice pages for more helpful tips and advice.
Let us help you build
your Cover Letter!
Make your cover letter more organized and attractive with our Cover Letter Builder