A cover letter is an essential component of any job application package. It provides employers with a snapshot of your personality, qualifications and experience, making it crucial to get it right. Writing a compelling junior accountant cover letter can be a challenging yet rewarding exercise, and this guide aims to provide you with the tools to create an effective and professional document. With a combination of tips, advice and an example cover letter, you'll be well on your way to a successful job application.
If you didn't find what you were looking for, be sure to check out our complete library of cover letter examples.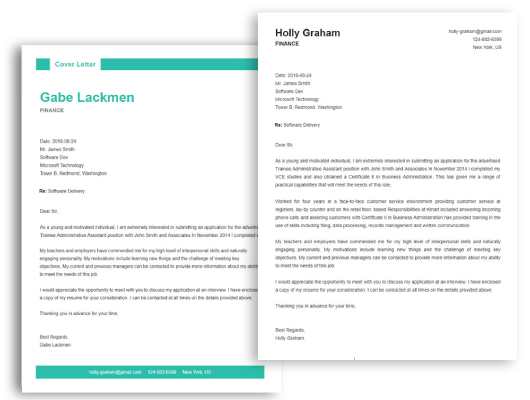 Start building your dream career today!
Create your professional cover letter in just 5 minutes with our easy-to-use cover letter builder!
Junior Accountant Cover Letter Sample
Dear [Hiring Manager],
I am writing to express my interest in the Junior Accountant position at [Company Name]. With my extensive training and experience in accounting, I am confident I possess the necessary skills and abilities to thrive in this role.
I have a degree in Accounting from [College Name] and four years of experience working in the industry, both in an accounting role and as an auditor. During this time, I have developed a well- rounded set of skills that includes database management, financial analysis, and report writing. I also have extensive experience working with a variety of accounting software programs and systems, including QuickBooks and Microsoft Dynamics GP.
I am highly organized, accurate and detail- oriented, with a strong ability to meet deadlines. I have excellent communication and interpersonal skills, allowing me to interact effectively with colleagues, management, and clients. Additionally, I am a highly motivated individual who is eager to contribute to the success of your organization.
I am confident that my skills and qualifications make me an ideal candidate for the Junior Accountant position and I look forward to discussing my candidacy with you further. Please find my resume attached. I can be reached anytime via email at [email] or by phone at [phone number].
Thank you for your time and consideration.
Sincerely,
[Your Name]
Looking to improve your resume? Our resume examples with writing guide and tips offers extensive assistance.
What should a Junior Accountant cover letter include?
A junior accountant cover letter should include a few key elements to make it stand out from the competition. First and foremost, it should convey a clear understanding of the job and how the applicant's skills and experience make them a strong candidate for the role. It should also be tailored to the specific position and include relevant information about the applicant's background and qualifications.
The junior accountant cover letter should include a strong opening paragraph that outlines the applicant's desire to join the organization and the qualifications that set them apart from other candidates. This section should be followed by a brief summary of their skills, experience, and qualifications, as well as any relevant accomplishments or awards.
Following this should be a section that outlines the specific attributes and qualifications that make the applicant a good fit for the job. This should include details about their experience in the accounting field and any areas of expertise they bring to the role.
The cover letter should conclude with a closing paragraph that reiterates the applicant's interest in joining the organization and provides contact details for them to follow up.
By including these elements in their junior accountant cover letter, applicants can demonstrate their ability to effectively communicate their qualifications and create a strong impression of their candidacy.
Junior Accountant Cover Letter Writing Tips
Writing a cover letter for a junior accountant position requires an understanding of the job duties, key skills, and qualifications. The cover letter should also reflect the applicant's enthusiasm for the position and highlight their unique qualifications for the role. Here are some tips for writing an effective cover letter for a junior accountant position:
Begin the cover letter with a professional greeting, such as "Dear Hiring Manager."
Explain why you are the ideal candidate for the position, focusing on the skills and qualifications that make you a good fit.
Describe relevant experiences, such as any accounting internships you may have completed.
Explain any certifications you hold, such as Certified Public Accountant (CPA).
Outline your commitment to accuracy, timeliness, and customer service.
Demonstrate your knowledge of accounting principles and software, such as QuickBooks.
Include any financial analysis, budgeting, or forecasting skills you have.
End the cover letter with an appreciation for being considered for the position and your contact information.
By following these tips, you can create an effective cover letter that captures an employer's attention and makes a positive impression. Good luck!
Common mistakes to avoid when writing Junior Accountant Cover letter
Writing a cover letter for a job can feel like a daunting task, especially when you're applying for a role such as a junior accountant. However, with the right approach and a little bit of effort, you can ensure that your cover letter is of the highest calibre. Here, we look at some of the most common mistakes to avoid when writing a junior accountant cover letter.
Not Crafting a Specific Cover Letter: A generic cover letter that you can use for any job will not help your application stand out from the crowd. Rather, you should take the time to craft a specific cover letter that speaks to the role you are applying for. This will show the recruiter that you have taken the time to think deeply about the job, and demonstrate your commitment to the role.
Not Tailoring Your Skills to the Job Description: Your cover letter should be tailored to the job description. This means highlighting specific skills and experiences that are relevant to the role. This will give the recruiter an immediate insight into why you are the perfect candidate for the job.
Not Using the Right Keywords: Many recruiters use automated programs to filter out job applications. To ensure your application stands out, be sure to use the right keywords that match the job description.
Not Asking for an Interview: Your cover letter should always end with an action. This could be something as simple as "I look forward to hearing from you" or "I would welcome the opportunity to discuss the role further in an interview."
Not Proofreading: Before you submit your cover letter, be sure to proofread it thoroughly for any spelling or grammatical errors. This is an important part of the job application process, and can make the difference between success and failure.
By avoiding these common mistakes, you can ensure that your cover letter for a junior accountant role is of the highest calib
Key takeaways
Writing a junior accountant cover letter is a great way to make sure your resume stands out from the competition. A well- crafted cover letter can go a long way in helping you land the job you're hoping for. Here are some key takeaways for writing an impressive junior accountant cover letter:
Start strong. Your cover letter should begin with an attention- grabbing introduction that grabs the hiring manager's attention. Use this opportunity to introduce yourself and explain why you're the perfect candidate for the job.
Include relevant qualifications. Use your cover letter to highlight your relevant qualifications and experience. Be sure to focus on the skills and experience that make you the ideal candidate for the job.
Tailor your cover letter. Don't just copy and paste a generic cover letter. Take the time to tailor your letter to the company and the job you're applying for.
Demonstrate your enthusiasm. Show the hiring manager that you're excited about the opportunity to work with the company.
End strong. Wrap up your cover letter with a strong closing statement. Thank the hiring manager for their time and express your excitement for the next steps.
By following these key takeaways for writing an impressive junior accountant cover letter, you can increase your chances of landing the job you're after. Good luck!
Frequently Asked Questions
1. How do I write a cover letter for an Junior Accountant job with no experience?
Writing a cover letter for a junior accountant job with no experience can be challenging, but it's still possible to create a strong and effective document. Start by mentioning any accounting coursework or qualifications you may have, as well as any relevant volunteer or internship experience. Next, focus on your transferable skills, such as data analysis, problem- solving, communication, and organization. Finally, showcase your motivation and enthusiasm for the job. Focus on the job description and emphasize how you will be an asset to the company with your knowledge, skills, and passion.
2. How do I write a cover letter for an Junior Accountant job experience?
If you have previous experience in an accounting role, you should highlight your key accomplishments and the skills you have mastered. Include specific examples of how your work has benefitted past employers. Mention any awards or recognition you have received in the accounting field, as well as any accounting- related coursework or certifications you have completed. Showcase your abilities to be detail- oriented, organized, and able to handle high volume workloads.
3. How can I highlight my accomplishments in Junior Accountant cover letter?
When highlighting your accomplishments, be sure to provide concrete examples that demonstrate your accounting skills. For example, you could discuss your ability to streamline processes, decrease costs, and bring in new clients. You could also mention any successful projects you have worked on or any achievements that set you apart from other candidates. Showcase the results of your work, such as how you increased profits or improved customer service.
4. What is a good cover letter for an Junior Accountant job?
A good cover letter for a junior accountant job should demonstrate your knowledge of accounting principles and practices, as well as your enthusiasm for the position. Be sure to mention any relevant experience, such as your past internships or any accounting-related coursework you have completed. Additionally, explain why you believe your qualifications make you the best candidate for the job and how your unique skills and experience can set you apart from other applicants. Finally, discuss how you plan to use your skills and knowledge to benefit the organization.
In addition to this, be sure to check out our cover letter templates, cover letter formats, cover letter examples, job description, and career advice pages for more helpful tips and advice.
Let us help you build
your Cover Letter!
Make your cover letter more organized and attractive with our Cover Letter Builder