Writing a cover letter for an Associate Director position can be a daunting process, but there is no need to fear! With the right guidance and a few tips, you can make sure your cover letter is the best it can be. In this blog post, we will provide you with a comprehensive guide on how to write a cover letter for an Associate Director position, as well as an example cover letter. With this information, you will be well-equipped to craft a successful cover letter that will make you stand out among other applicants.
If you didn't find what you were looking for, be sure to check out our complete library of cover letter examples.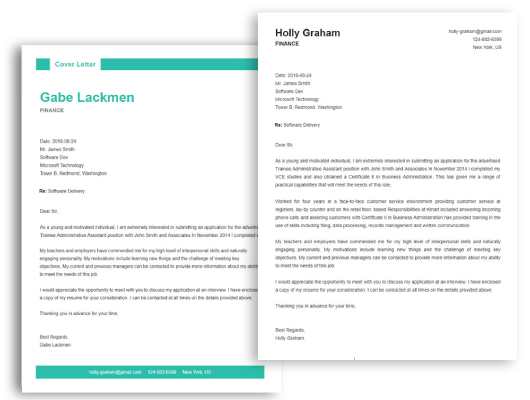 Start building your dream career today!
Create your professional cover letter in just 5 minutes with our easy-to-use cover letter builder!
Associate Director Cover Letter Sample
Dear [Employer Name],
I am writing to apply for the position of Associate Director with your organization. I am confident that my background in project management, program development, and team leadership would make me an excellent addition to your team.
I bring to the position a wealth of experience from the nonprofit sector, having served as the director of program development for the ABC Foundation for the past three years. In this role, I developed a strategic plan for program expansion, led an executive team to implement it, and steered the organization to record levels of funding and positive community engagement. Prior to that, I served as the project manager at the XYZ Foundation where I managed a six- figure budget and saw consistent year- over- year growth in program metrics.
I have a strong track record of developing innovative programs and managing budgets. I am adept at building and leading teams with diverse skill sets and backgrounds. Most importantly, I am passionate about making an impact and working hard to support the mission of organizations.
I would welcome an opportunity to discuss how I can bring my skills, qualifications, and enthusiasm to the role of Associate Director. Please feel free to contact me at your convenience.
Thank you for your time and consideration.
Sincerely,
[Your Name]
Looking to improve your resume? Our resume examples with writing guide and tips offers extensive assistance.
What should a Associate Director cover letter include?
A cover letter for an Associate Director position should include several key elements to enable the hiring manager to gain a better understanding of your qualifications and interest in the job.
Firstly, it should explain why you are interested in the position and why you would be right for the role. It should provide evidence of your suitability by outlining your qualifications and relevant experience as an Associate Director. It should also provide some detail on the key professional and leadership skills you possess.
Furthermore, the letter should demonstrate how you are a good cultural fit for the organisation, and how you can help to progress their mission and goals. It should include examples of how you have made a positive impact in previous roles.
Finally, the letter should be tailored to the specific job and employer, and should include information about why you are the perfect candidate for the job. The letter should be free of errors and be concise and professional.
Associate Director Cover Letter Writing Tips
Are you looking for tips on how to write a perfect associate director cover letter? You're in the right place! An effective cover letter will show employers why you are the perfect candidate for the position. Here are some tips that can help you write an outstanding cover letter for your associate director application.
Research the company: Before you even start writing your cover letter, it's important to do your research on the company you are applying to. This will help you understand the company's culture, goals, and values. It's important to mention these in your cover letter to show that you are a good fit.
Create an attention- grabbing introduction: Your opening paragraph should be eye- catching and make the employer want to read on. Introduce yourself, mention the position you're applying for and explain why you're the perfect candidate for the job.
Use keywords: When writing your cover letter, be sure to use keywords or industry- specific terms relevant to the position you are applying for. This will help demonstrate to the employer that you have the experience and knowledge they are looking for.
Highlight your experience: Use your cover letter to draw attention to your most relevant experience and skills. Explain how these will benefit the company and make you stand out as a candidate.
Show enthusiasm: Show the employer that you are eager and excited about the opportunity. Explain how you will bring enthusiasm and dedication to the position.
Keep it professional: Make sure your cover letter is well- written, free from errors, and professional. Use the same language you would use in an interview.
Following these tips can help you write a standout cover letter for your associate director application. Remember to keep it concise, include relevant keywords, and demonstrate your enthusiasm for the role. Good luck!
Common mistakes to avoid when writing Associate Director Cover letter
Writing an Associate Director cover letter can be a daunting task, especially if you're not sure what to include. Here are some common mistakes to avoid when crafting your cover letter so you can make a great first impression:
Not Customizing Your Cover Letter: Your cover letter should be tailored to the job you're applying for. Don't just use the same generic cover letter for each job. Make sure to mention the company, position and why you're a good fit.
Not Doing Your Research: Make sure to do your research prior to writing your cover letter. Learn about the company, their values and mission, and how you can help them reach their goals.
Not Selling Yourself: Your cover letter should be a sales pitch. Use it to highlight your skills and experience that make you the ideal candidate for this position.
Focusing on Yourself Too Much: While it's important to sell yourself in your cover letter, don't make it all about you. Focus on how you can help the company and how your qualifications can benefit them.
Not Proofreading: Always proofread your cover letter. This is a key step that many people skip, but it's essential for a professional document. Check for typos, grammar errors, and other mistakes that can cost you the job.
Not Following Instructions: Make sure to read the job posting carefully and follow all instructions. If the job posting asks for specific information to be included in your cover letter, make sure to include it.
By avoiding these common mistakes, you can create a standout cover letter that will catch the employer's eye and get you one step closer to landing the job. Good luck!
Key takeaways
Writing an impressive cover letter for an Associate Director position can be challenging. To make the task easier, here are some key takeaways you should keep in mind:
Make sure your cover letter is tailored to the specific role and organization you are applying to. Avoid making a generic cover letter that can be used for any job.
Showcase your relevant experience and highlight any skills or qualifications that make you a good fit for the role.
Keep your cover letter short and to the point. Avoid having too much detail and focus on only the most important points.
Be sure to highlight any accomplishments or successes you have achieved in previous roles.
Convey your enthusiasm for the role and the company in your cover letter.
Use a professional but friendly tone, while still being concise and to the point.
Proofread your cover letter multiple times to ensure there are no mistakes or typos.
These are some of the key takeaways to keep in mind when writing an impressive Associate Director cover letter. By following these tips, you can create a powerful and persuasive cover letter that will help you stand out from the competition.
Frequently Asked Questions
1.How do I write a cover letter for an Associate Director job with no experience?
Writing a cover letter for an Associate Director role without any experience can seem daunting, but there are still ways to make yourself stand out from the competition. First, focus on the skills and qualifications that you do possess that could be relevant to the position, such as leadership, communication, and problem- solving. Then, use your cover letter to discuss how your values and motivations align with those of the company. Additionally, emphasize your ability to learn quickly and that you are eager to use your existing skills and aptitudes to contribute to the team's success. Finally, provide concrete examples of times when you have demonstrated these skills in the past, such as through volunteer work or class projects.
2.How do I write a cover letter for an Associate Director job experience?
For an Associate Director role, your cover letter should focus on the relevant skills and experience you possess that make you a great fit for the role. Start off by highlighting your experiences that are most applicable to the job, such as management, budgeting, and strategic planning. Additionally, discuss your accomplishments that are particularly impressive, such as successful projects or campaigns that you have led. If you have previous experience in a similar role, emphasize how you used your skills in that position to achieve success and how you are prepared to do the same in the Associate Director role.
3.How can I highlight my accomplishments in Associate Director cover letter?
When highlighting your accomplishments in your Associate Director cover letter, focus on the accomplishments that are most relevant to the role. This may include successfully completing projects, developing strategies to meet goals, or managing teams and budgets. Additionally, be sure to provide specific details about the accomplishment, such as how many people you managed, how the project was completed on time and on budget, or how much time you saved by streamlining a process.
In addition to this, be sure to check out our cover letter templates, cover letter formats, cover letter examples, job description, and career advice pages for more helpful tips and advice.
Let us help you build
your Cover Letter!
Make your cover letter more organized and attractive with our Cover Letter Builder